The bag-in-tube market is expected to outperform other alternatives as a single-use packaging system in the global flexible packaging landscape. Witnessing a stupendous CAGR of more than 13%, the global bag-in-tube market will exhibit remarkable growth between 2019 and 2029. Wine packaging would remain a prominent segment contributing to revenue growth of the global bag-in-tube market, as suggested by a new Future Market Insights (FMI) report.
Get Sample of the Report : https://www.futuremarketinsights.com/reports/sample/rep-gb-3075
Some of the key features fueling this growth are preference for bag-in-tube for its 360° area available for printing & embossing and ability to offer extended shelf life of up to 6 to 8 weeks after opening the pack. Metallized PET used in manufacturing bag-in-tube films structures meets customer needs in terms of mechanical resistance and oxygen barrier. The bag-in-tube market is expected to witness an impressive growth rate of 13.7% throughout the forecast period (2019-2029). High-end customization using spigot & handles and type of material used as barrier layers are some of the key trends in the bag-in-tube market.
Key Takeaways – Bag-in-Tube Market Study
Metalized PET will continue to be highly preferred in the bag-in-tube market, and is projected to capture more than 60% of the market share during the forecast period of 2019-2029.
Demand from manufacturers of wine and olive oil is collectively expected to hold around 80% of the global bag-in-tube market share by 2029, and its absolute growth is expected to be more than any other segment.
Western Europe is expected to dominate the bag-in-tube market, and is projected to register an impressive CAGR through 2019-29.
Manufacturers of bag-in-tube can achieve substantial profits by targeting wine and spirit manufacturers as these end users finding bag-in-tube as a lightweight, leak-proof and economical packaging alternative to glass.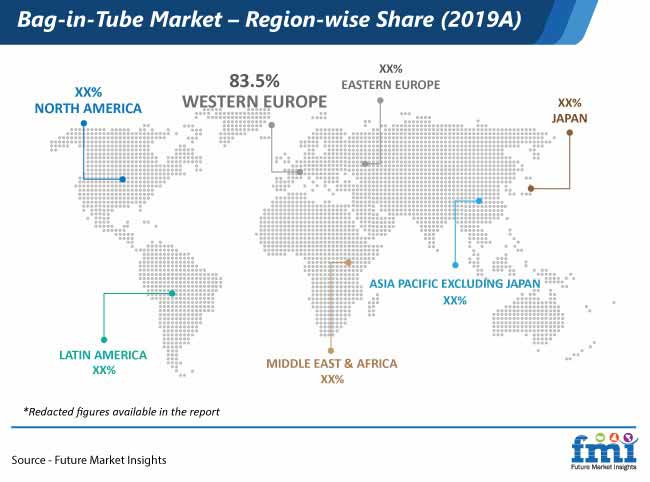 Largely Untapped Markets Exist in Asia Pacific and MEA
Bag-in-tube packaging, which is the extended version of bag-in-box, is very new to some markets. While the market penetration of bag-in-tube is very high in Western Europe, it is somewhat low in North America. The largely profitable markets of Latin America and Eastern Europe, where bag-in-tube is in its introductory and developing stages, are the major producers and consumers of wine, offering a great opportunity for manufacturers of bag-in-tube packaging. APEJ, MEA, and Japan have almost a negligible penetration of bag-in-tube, making them highly profitable regions for manufacturers that aim to improve their market positions.
Bag-in-tube packaging is extensively used for packaging wine and spirits, followed by high-end vegetable oil (olive oil) in European countries. The global millennial population is estimated to surpass 30% mark by the end of 2025. Millennials are easily attracted towards innovative packaging like bag-in-tube and bag-in-boxes as they such packages easy to carry and store. This is expected to create lucrative opportunities for bag-in-tube manufacturers worldwide.