Introduction
At DSP-Explorer, we are very excited by the launch of the X9M generation of Exadata. Before we get into it, here is a quick recap on Exadata. Exadata provides extreme performance and availability at a low cost and is available everywhere – on-premise, on Oracle Cloud and in the same cloud consumption model but in your own datacentre.
Exadata has been in the market since 2008 with widespread adoption – 87% of the largest companies in the world run Exadata. Why is that? It's because Exadata provides a superior architecture for all the different kinds of workloads from financial trading, manufacturing, and E-Commerce. Exadata is also best of breed for the most complex applications in the world such as SAP, Fusion applications, E-Business Suite, NetSuite, Sibel, Peoplesoft, ultra-complex applications that have hundreds of thousands of tables and indexes, millions of users, millions of SQL statements – everything!
Exadata Recap
Let's first talk about Exadata's superior software architecture – for transactional workloads Oracle provides the fastest OLTP IO because the architecture has storage in servers, remote direct memory access (which is dramatically faster than traditional architectures), Intel Persistent Memory and the fastest NVMe (Non-Volatile Memory Express) Flash. In short, this is more than just clustering Servers and Storage together – you cannot bake these ingredients yourself and Exadata is simply the fastest system to run business critical databases.
The most recent architectural change is Persistent Memory for OLTP. The way this works is that the Oracle Database is integrated with Exadata and it issues remote memory direct access instead of normal IO to read persistent memory in Exadata storage. The reason this is much faster is because remote direct memory access is basically hardware to hardware communication, so it bypasses all the networking and IO software interrupts and context switches so there's no software – it's a pure hardware remote direct memory access.
For analytics, Exadata's superior architecture uses Oracle's unique Smart Scan technology that automatically offloads data intensive SQL operations to storage. Furthermore, Exadata automatically converts data into In-Memory columnar formatting, so it runs analytics dramatically faster. Exadata has a unique ability to prioritise latency sensitive workloads automatically through the whole stack from servers through storage network and to provide workload isolation so multiple tenants or workloads are don't negatively impact each other.
On the storage side, Oracle transparently manages persistent memory – automatically moving the hottest data into Persistent Memory, which increases the effective capacity of Persistent Memory by an order of magnitude. Exadata also provides automatic redundancy across multiple storage servers so if a server fails, or if persistent memory fails, the database keeps running and nothing is lost. The benefits of this is that you get the speed of RDMA to persistent memory for both database reads and commits and the result is super low latency.
Oracle have achieved 19 microsecond latency from the database to Persistent Memory and storage that is orders of magnitude faster than Flash! So, where others talk about millisecond latency, Oracle talks about microsecond latency – dramatically faster due to the superior architecture.
What's new with the X9M architecture?
Exadata X9M is now even faster for transactional workloads compared to the X8M – let alone the orders of magnitude improvements over older models such as X6, X7 and X8. Exadata achieves 70% more OLTP IOs per second than the previous generation Exadata, so it's now up to 27 million IOs per second in a single rack of Exadata!
There are also 33% more cores (32 up from 24) for OLTP processing and 28% more storage capacity (18TB drives up from 14TB).
So how does performance compare to others in the industry? If you compare Oracle's OLTP read latency, Oracle are 5 to 7.5x faster! Not 5% not 50% this is 5x, 500% faster! For OLTP read throughput were 3.5 to 50x more IOs per second so you don't achieve these kinds of advantages without a superior architecture – it's not just a little faster, it's incredible!
The X9M runs analytic scans 87% faster than the previous generation. A lot of that has to do with the new Flash storage and its new and faster networking so analytic throughput can run up to 1TB per second. Whilst other competitors are talking about single digit GB per seconds, Oracle Exadata is now one terabyte per second!
Only Pay for Consumption
Exadata is also available on a cloud subscription model on Oracle Cloud Infrastructure (OCI) so you benefit from all the gains that Public Cloud brings. However, not all customers are ready for full public cloud adoption yet. Applications might not be 'Cloud Ready', processes and internal ops teams might not be mature enough for cloud either, or you might be restricted due to data sovereignty or contractual/regulatory demands to stay 'on-premise'. Regardless, Exadata is now also available as a subscription service on-premise so you only pay for what you use. This is a fundamental shift for Oracle and enables customers to ditch Oracle licensing and associated support costs to move completely to a 'Cloud Economics' model – dramatically reducing OPEX costs. Oracle call this 'Exadata Cloud at Customer' or ExaCC for short.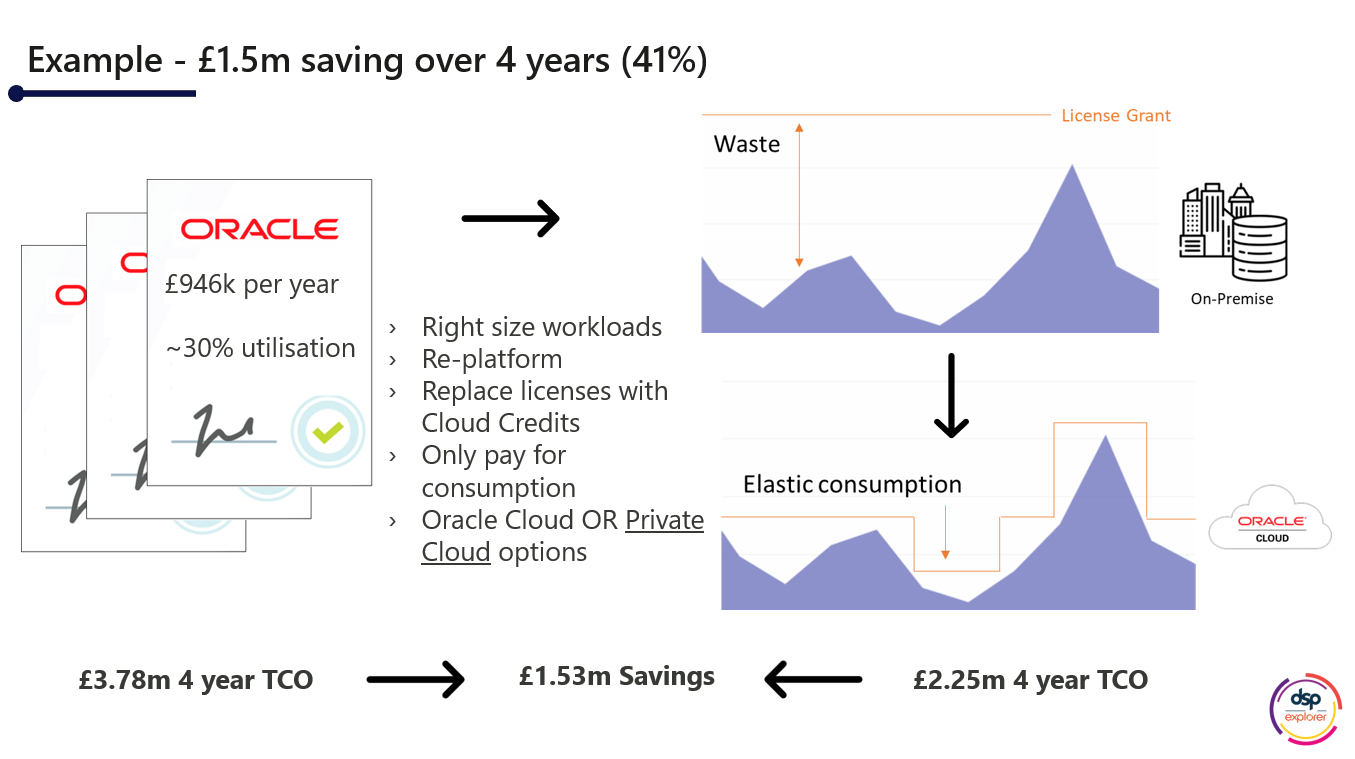 ExaCC has all the extreme performance benefits of Exadata but it adds cloud simplicity and cost effectiveness – it's a cloud platform that runs in your data centre. Oracle owns and remotely manages all the infrastructure at the outer layer and customers (or MSP's like ourselves) manage everything else internally – such as the databases! ExaCC also uses the same APIs as the public cloud making Hybrid Cloud between ExaCC and any other public cloud such as OCI, AWS or Azure super easy.
What about ExaCC software improvements?
ExaCC now has elastic storage expansion so you can lower the cost of storage centric configurations.
Oracle now have something called 'Operator Access Control' where the customer can control when and how the Oracle operation staff can access your systems remotely.
Data Guard Automation enables easy setup of standby databases using cloud UIs and APIs
Multi VM support allows you to increase workload isolation enabling better consolidation
Increased flexibility and control over system maintenance scheduling
New & simple 'click to update' database software using a Cloud UI
Finally, Oracle now support custom database home images, which easily allows customers to apply specific fixes across all their systems.
When all is said and done ExaCC is a solution for CFOs to rid themselves of ever-increasing Oracle support costs by pivoting to a consumption only model, whilst remaining on-prem. This is going to be biggest driver towards ExaCC. If that's not enough, the technical justification stacks up for itself…
ExaCC has 50x better latency than AWS RDS
100x better latency for OLTP than Azure SQL
25x to 72x faster analytics throughput
If you'd like to discuss Exadata X9M further, please get in touch with a member from our Exadata team, or review our Oracle Exadata Services for more details.