The Super Bowl Fizzles
The Super Bowl is due for a come-back as the luster of The Big Game has waned over time. Last year's viewership originally reported at 92,000,000 was the smallest Super Bowl audience since 2007 — an audience that has dropped steadily since 2015 when a record 114,000,000 Americans tuned in.
More notable is the widening disparity between Super Bowl audience size and ad rates. NBC's average cost per :30-second spot this year is reported at $6.5 million, with rumors of some going as high as $7 million. Yet,  Super Bowl audiences grow at significantly smaller rates than Super Bowl ad costs:
Average Super Bowl Audience Growth 2007-2021: 0.18%
Average Super Bowl Ad Cost Growth 2007 – 2021: 3.89%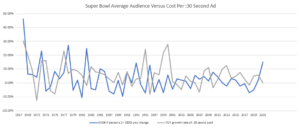 In fact, Super Bowl CPMs for :30-second commercials have increased a 111% in  2018 and 74% last year.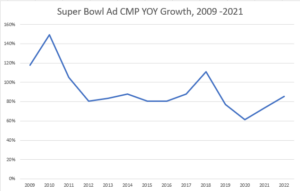 The Cultural Conditions Coalesce For A Buoyant Big Game
Expect a different game this year. We see a number of signals suggesting a strong Super Bowl LVI this Sunday, in both viewership and in advertising. Our research and analysis indicate this year's game as a tent-pole media event will benefit because:
Brands appear upbeat for 2022. As Forrester's Kelsey Chickering writes, brands are showing swagger with bullish media moves in 2022. These include upward trending advertising spend projections ranging from + 9 to 12%, a return to live events such as Super Bowl LVI and its expected 70,240 full-capacity crowd, and the return of storied Super Bowl advertisers Nissan, Budweiser and Gillette.
Audiences appear engaged. Forrester conducted a poll on Super Bowl and advertising interest with 306 US adults from January 31, 2022, to February 7, 2022, in its ConsumerVoices market research online community (MROC).* Sixty three percent (194 of 306 respondents) indicate they intend to watch the Super Bowl LVI this Sunday.
The national mood is one of moving on from the pandemic. Unlike last year's game which came on the heels of a winter spike of COVID-19, limited access to newly rolled out vaccinations and a rancorous election year this year is different. A recent Monmouth University poll show that 70% of Americans are ready to accept COVID-19 and move of with daily life. And it's more than sentiment, as numerous states set out plans to roll-back COVID restrictions.
*Note: This poll was administered to a sample of 305 online consumers in the US in Forrester's qualitative ConsumerVoices online community. This data is not weighted to be representative of total country populations.
Forrester Projects Super Bowl LVI Comes In Second
We developed a statistical regression model to project Super Bowl audiences using Household Rating and Household Share from a 5-year average of Nielsen Super Bowl audience data. This model predicted the last several years of Super Bowl audiences within a 95% confidence threshold. We project a Super Bowl audience of 112,262,000 viewers and a prediction interval of 105,563,000 – 118,962,000. This projection represents a 21% year-on-year growth from Super Bowl LV and the second highest audience in Super Bowl history, behind 2016 114,000,000.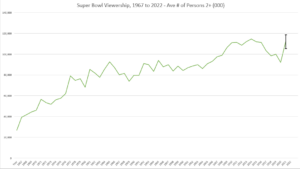 Source: Forrester Analysis of Nielsen audience ratings
We'll be watching closely to monitor audience sizes and performance. Between now and Sunday look for another blog post featuring our assessment of the Super Bowl ads. If you have questions you can reach me at jpattisall@forrester.com. Enjoy the game!